START THE NEW YEAR OFF IN SYNC WITH HEAVEN'S OLD TESTAMENT "CALENDAR". . .
SEPTEMBER 25 signifies the beginning of the year 5783 in the Hebrew calendar. While there are no longer legal obligations to keep the feasts (festivals) for us as followers of Jesus, there are still "shadows" and "types" of His reality we can benefit from understanding.
Valuable truths and even revelation can still be experienced from what are often seemingly hidden meanings from the Old Testament. Come and join us as George and Angie Sickler, Jack and Terri Brown, Audrey Beckett, and Theresa Moody will bring worship, teaching and leading this time together.
________________________________________________________
PRAYER GARDEN FLOAT MAKES INAUGURAL ENTRY IN THE FOUNTAIN FALL FESTIVAL PARADE . . .
Excitement was tangible as staff and volunteers participated in production of a float and then walking along the parade route through Fountain city distributing information about the Garden, Scriptures, etc., to hundreds of spectators.
See our Parade Facebook Page for videos and more pictures.
________________________________________________________
IF YOU HAVEN'T ALREADY, CIRCLE YOUR CALENDAR ON FRIDAY AND SATURDAY, OCTOBER 14 AND 15 FOR THE "ADVENTURE IN MISSIONS" EXPERIENCE !
It'll probably be unlike any you've experienced before with a mix of worship, challenging stories of what God is doing in the world, and innovative prayer times.


________________________________________________________
NEXT GARDEN FINANCIAL MILESTONE WITHIN REACH . . . !
Thanks to some very special donors we are almost over the top in reaching our matching gift goal of $120,000 to finish "Paving the Way to the Cross".  In fact, a team of two has just arrived this week from Utah to join with our Garden team to do work on the Altar/Stones of Remembrance/Names of God at the point of intersection. When this is completed, we will be able to continue laying the remainder of our paver stones. Celebrate with us !
Look what has happened in the last month from our financial donors !
________________________________________________________
TWO VERY IMPORTANT EVENTS COMING SOON IN THE "LIFE" ARENA !

You may have noticed in local media the local baseball team called the "Vibes" broke its commitment to two well-known and respected pro-life ministries in El Paso County on August 28. The contractual agreement had been in place for several months to host a Family Night with all their content approved and the day of the game they were informed of the cancellation. This is all a part of the battle going on with the most important social, moral, and spiritual issue of our generation.
As we shared in our last newsletter, the Gateway Prayer Garden is fully committed to supporting all groups, ministries, and individuals who are working to restore protections to life and humanity to everyone created in God's image. We intend to have a portion of the Garden set aside to serve this purpose, also.
If you are serious about making a difference and changing El Paso to a culture where lives are protected at every age and stage of life, we encourage you to consider participating in the following activities.  Otherwise, come and join us for our "Adventure in Missions" time that weekend !
PIKES PEAK STAND FOR LIFE CHAIN:  Sunday, October 2, 2022 from 1:30 - 3:00 PM in two locations – Academy Blvd. just north of Austin Bluffs Pkwy in Colorado Springs and in Monument along Highway 105. Free signs are provided. Contact Linda Kracht at [email protected] or Stephanie Kemp at [email protected] to participate.
The Life Chain is a peaceful public witness of pro-life individuals standing and praying for our state and nation and an end to abortion and conveying a visual statement of solidarity among like-minded persons.
________________________________________________________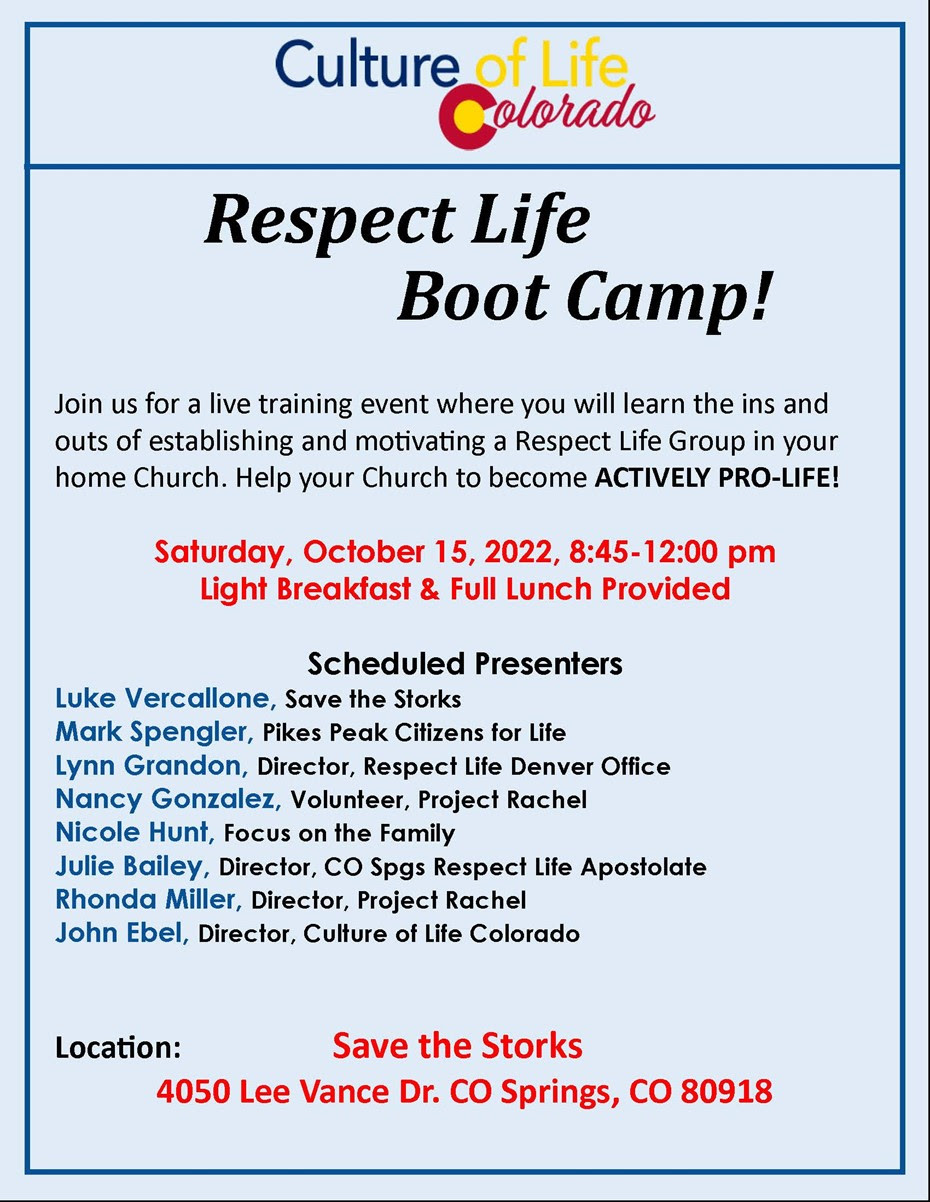 RESPECT LIFE BOOT CAMP . . . Saturday, October 15, 2022
If you want to make a positive difference for the spiritual and moral issue of our generation, this is the place to be on Saturday, October 15 from 8:45 to 12 noon. A light breakfast and lunch will be provided and you will experience a very user-friendly environment to learn how to share the life message in your local church. AND PLEASE RSVP to [email protected]
________________________________________________________
HIGH PLACE MINISTRIES HAS PLAYED KEY ROLE IN THE PRAYER GARDENS SPIRITUAL LAUNCH THIS YEAR . . .
We have been blessed to host to two High Place Ministries (HPM) gatherings this summer. HPM is a ministry dedicated to serving individuals with physical and spiritual needs through prayer which can often include wounds to the soul or generational iniquities.
Their ministries include healing rooms by appointment with trained ministers, Women of the Kingdom gatherings, and regular community worship gatherings. These are open to the public for family, friends, and include dance, praise, and worship.
Do you like this post?